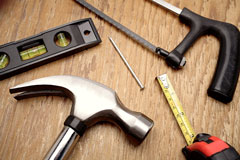 Since the beginning of recorded history, man has used tools to manipulate and control his physical environment. Tools have enabled people to perform a myriad of physical tasks efficiently.
Hand tools such as hammers, screwdrivers, and wrenches are basic tools that are found in most homeowner tool boxes, but power tools have largely supplanted hand tools such as hand drills and hand saws. Whether the task is hanging a picture or remodeling a room, power tools can help get the job done faster and more easily. Both do-it-yourselfers and tradespeople often find that a power tool enables them to tackle a project more efficiently than a traditional hand tool. Two of the most widely-used power tools are the cordless drill, which can drill holes in various materials and is powered by a rechargeable battery, and the table saw, which can quickly saw both straight crosscuts and rip cuts.
Air tools receive compressed air via air hoses that are attached to air compressors. Industrial pneumatic tools and paint sprayers are powered by compressed air, and many traditional power tools, such as drills, saws, and routers, are available in air powered versions.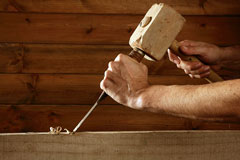 Wood carving tools are designed primarily for production-oriented carving of furniture and architectural details. The many shapes, widths and bends featured in these tools were developed to carve decorative motifs with a minimum number of cuts. Hand carving tools have changed little during the last century, but power carving tools have become popular among carvers for their high-speed grinding, chiseling, and polishing capabilities.
Scissors are useful household and office tools. From snipping vegetables to clipping coupons, scissors make it quick and easy to cut things. Special scissors are even used for medical and surgical applications.
In addition to these general purpose tools, a variety of special purpose tools are needed in certain trades and professions. Jewelers, for example, need the right set of tools to make jewelry items. Basic jewelry making tools include jeweler saws and blades, flat-nosed and round-nosed pliers, wire cutters, and needle files. Jewelry makers also need comfortable benches that are large enough to accommodate their work. On the other hand, dentists require specialized dental tools and instruments, from dental burs to mouth mirrors and college tweezers.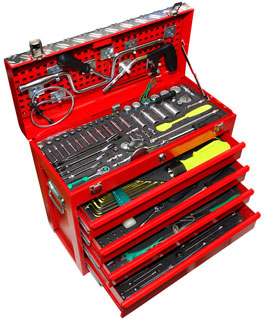 Professional tradesmen, do-it-yourselfers, and amateur craftsmen can all benefit from tool boxes in which to store and organize their tools. Tool boxes are typically made from steel or plastic; they usually feature top or side carrying handles, locking hasps for security, and piano hinges for durability.
For outdoor use, many types of gardening tools are available for tilling, planting, and cultivating gardens. Both power tools and hand tools can be useful in preparing and maintaining a backyard garden.
Alphabetized lists of, and links to, machine tool suppliers, tool and die makers, and tool rental and leasing services throughout the United States, organized by State, are available on these websites.
The operation of several power tools is illustrated on this tools video portfolio page.